The Thomashefskys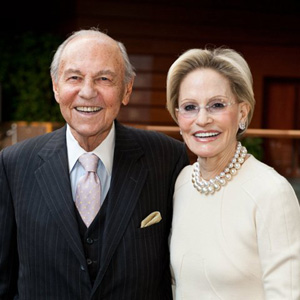 Community leaders, Connie and Joe Smukler were honored on February 15, 2011 for their outstanding accomplishments and devotion to furthering Jewish causes.
Michael Tilson Thomas is a star in the classical music world. He is the music director of the San Francisco Symphony and artistic director of Miami's New World Symphony.
Beginning in 2005, Tilson Thomas has been performing a very special show on Broadway and in theaters across the county. He created a show that takes a look at the world of his grandparents, who were superstars in another era: Yiddish Theater greats Bessie and Boris Thomaskefsky.
This now-famous and acclaimed show, The Thomashefskys, finally came to Philadelphia's Kimmel Center for the Performing Arts in February, 2011. The Jewish Federation of Greater Philadelphia hosted this special performance. Linda Steinberg, the shows executive director, said in the Jewish Exponent "…this very unique and original production, featuring live actors, memoirs, film clips and original recordings from the performances of Yiddish theatre is outstanding as modern theatre today." Michael Tilson Thomas produced, starred in and conducted the Philadelphia Orchestra in this musical tribute to his grandparents.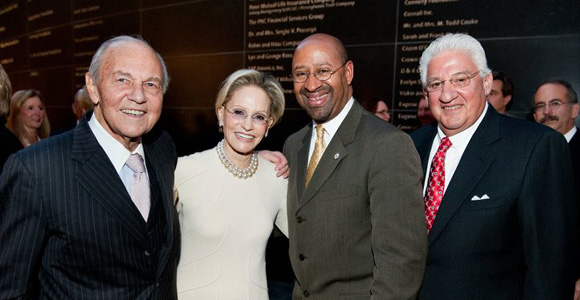 Honorees Joe and Connie Smukler receive congratulations from Mayor Michael Nutter and Federation's President Leonard Barrack.
They were the Elizabeth Taylor, Richard Burton of their time... and this show tells not only the story of Boris & Bessie Thomashefsky but the life of new immigrants coming to the New World and the social transformations they faced as Jewish-Americans. It is a love affair that gave birth to the American theatre experience.
The Thomashevskys offered more than an evening of entertainment — it was to also honor an extraordinary couple of vision and valor — Connie and Joseph Smukler — whose humanitarian and philanthropic efforts saved and enriched many lives.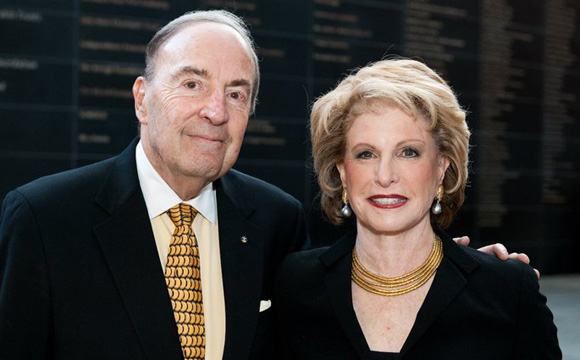 Tribute Committee Chair, Dr. D. Walter Cohen and Dinner Committee Chair, Claire Reichlin
We quote from the Jewish Exponent "…for more than 50 years, the Smuklers... have dedicated their lives to caring for fellow Jews locally and throughout the world. Among their many large-scale accomplishments are creating Philadelphia's Soviet Jewry Council, which has been credited as the organization that was most successful at helping the Jewish Refusniks ...to emigrate to the United States and Israel, and designing Philadelphia's 'Israel 50' celebration, the largest in the United States."
Connie and Joe Smulker are leaders in every sense of the word. Federation invited the community to be a part of the special evening on Tuesday, February 15, 2011 to enjoy "The Thomashevshys" and to join with others in saying "Thank You" to the Smuklers for helping transform Jewish life.