Welcome to The Honickman Foundation, dedicated to the support of projects that promote the arts, health, education, social change and heritage.
We fund a small group of issues and organizations where we feel we can truly make a difference. We look for projects in the community where we can work collaboratively and where we can be hands-on and stay very engaged.
»
More about us and what we do
What's Happening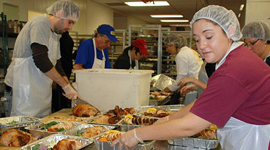 Did you know that food could be medicine?
MANNA has served countless Philadelphians with medically appropriate meals for more than three decades. And now, MANNA is revolutionizing healthcare with the MANNA Model. It combines the healing power of therapeutic meals with personalized nutrition education, improving clients' health and increasing the quality and stability of their lives.
The evidence-based MANNA Model prevents adverse health outcomes and costly healthcare utilization among clients, all of whom face at least on severe illness.