In Citizen's Garb: Southern Plains Native Americans, 1889-1891
From March 26 through June 20, 2010, the Penn Museum of Archeology and Anthropology presented In Citizen's Garb: Southern Plains Native American, 1889-1891, a powerful collection of fifty-five photographs taken during the late nineteenth century. Organized by the Museum of the Great Plains in Lawton, Oklahoma, the images depicted provide an unparalleled window into the life of Native Americans a century ago, and the process of acculturation imposed on them during westward expansion.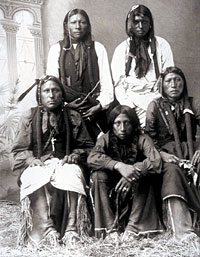 The photographs in this exhibition were taken by William J. Lenny and William L. Sawyer of Purcell, Oklahoma, one of the many towns that sprang up on former Indian lands. Lenny and Sawyer opened a photography studio in the Oklahoma territory to make images of "wild Indians" who were perceived to be part of a "vanishing race." At the time, photographs of Native Americans and frontier life were in vogue in the United States and in Europe, but they were especially popular in the eastern U.S. cities.
The 1880s and 1890s were decades of tremendous upheaval for many native tribes. Settlers were moving westward and with this encroachment of Euro-Americans came the depletion of natural resources, forcing Native Americans to make dramatic choices of where and how they lived. The images featured in the exhibition explore the ways dress and life changed for the Kiowa, Comanche and Apache tribes living on the K-C-A Reservation in southern Oklahoma Territory. Native Americans gradually adjusted to the new life forced upon them by the United States government.
It is almost certain the sitters for these portraits and the photographers had vastly different reasons for making these images. What is also certain is these photographs speak to the resolve and determination of a people who did not vanish in the wake of westward expansion, as was the popular belief a century ago. Rather, they document a time when Native Americans found themselves in the unfathomable position of adapting to foreign customs, traditions and culture.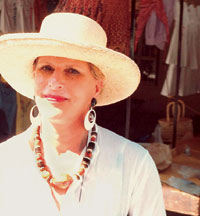 Elaine Garfinkel
The importance of viewing these images through twenty-first century eyes is to acknowledge their intended purpose and to also see what these portraits can tell us about these people as individuals and as a collective. A closer look reveals details of a nation of people forced into changing their way of life in the hope of surviving a future.
The Honickman Foundation's support of this exhibition is in tribute to the memory of Elaine Garfinkel, an activist, an authority on Southwest art, a museum docent and an exceptional friend to the Penn Museum and the Women's Committee.