The Gershman Y
The Gershman Y Galleries: Photographs by Stephen Shames
Displayed from April 6 through August 15, 2008 at The Gershman Y were photographs of acclaimed documentary photographer, Stephen Shames. His haunting images of children whose lives have been indelibly changed by civil war and AIDS bears witness to the scope of Uganda's humanitarian crisis as well as to the triumph of the human spirit.
The Gershman Y– Celestial Nights: Visions of an Ancient Land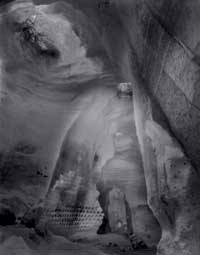 Bellcave, 2000
, 12" x 16" paper size, image smaller, edition: 49, toned silver print
The Honickman Foundation supported the Gershman Y's exhibit of
Celestial Nights: Visions of an Ancient Land
on view from February 12 through April 9, 2006. These stunning images of the deserts of Israel and the Sinai at night are by American-Israeli photographer Neil Folberg. The world depicted in Celestial Nights is composed of a delicately constructed order where earthy elements and the heavens mirror each other. In this series of compelling night images, the land and skies of Israel and the Sinai are offered to the viewer as mystical points of entry and departure. Folberg sets an ancient land against the awesome and eternal spectacle of the night sky.