Robert Glenn Ketchum at The Philadelphia Art Alliance
In Fall 2008, the Philadelphia Art Alliance hosted an exhibition of writer and renowned color landscape photographer, Robert Glenn Ketchum.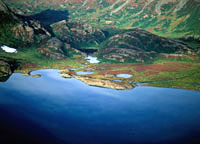 Robert Glenn Ketchum,
Nuyakuk
, Fuji Crystal Archive chromogenic print, 2001.
The photographs in this exhibit were selected from Robert Glenn Ketchum's comprehensive 2-book Aperture release,
Rivers of Life: Southwest Alaska, The Last Great Salmon Fishery
and
Wood-Tikchik: Alaska's Largest State Park
the most complete photographic archive ever created of this area.
Southwest Alaska: A World of National Parks and Wildlife Refuges was a rare opportunity for an East Coast audience "to experience the unique beauty of the region while reflecting on what is at stake in Alaska and the future of these territories, specifically with regard to land use and habitat protection."
The exhibit ran from September 10th to October 19th, 2008.