Musehouse: A Center for the Literary Arts
About the Founder and Executive Director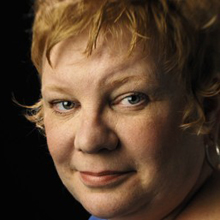 Kathleen Sheeder Bonanno, a retired English teacher, brought Musehouse to life following the death of her daughter, Leidy. In 2003, Leidy, a 21-year-old nursing school graduate, was murdered by an ex-boyfriend; he was later convicted of the crime and is currently serving a life sentence.
Four days after the murder, Kathleen said she was compelled to write her feelings down in the middle of the night in a poem titled "Poem About Light." That poem, along with 41 others, led to an award-winning book, "Slamming Open the Door." Two of the book's poems were nominated for the prestigious Pushcart Prize, and the volume, which received a stellar review in the New York Times, went on to become a bestseller in 2009 for poetry books.
Bonanno's experience also led her to create Musehouse: A Center for Literary Arts.
[Whose mission is to...] Provide a home for writers of varying ages and levels of experience in poetry, fiction, non-fiction, memoir and playwrighting through workshops, conferences, readings and special events.
—Kathleen Sheeder Bonanno
"After Leidy's death, I realized how fleeting life can be, and while I had the idea for this place for some time, I knew I needed to act on it," said Kathleen. Her vision was to create a home for others – of all ages and levels of experience – to write and to participate in workshops, conferences, readings and special events.
Musehouse opened its doors in September 2011. Today, a variety of programs are offered, including language arts tutoring for SAT prep, legacy writing classes for senior citizens, grief and loss workshops, and courses in memoir and nature writing, among others.
Bonanno won a $50,000 matching grant to fund Musehouse from Knight Foundation. Her grant was part of the Knight Arts Challenge Philadelphia initiative, a three-year, $9 million program aimed at supporting innovative ideas in arts programming. Thirty-six winners, including Bonanno, were chosen from 1,752 applicants for the program, which began four years ago in Miami.