Eileen Neff: Between Us
Eileen Neff: Between Us
Institute of Contemporary Art, University of Pennsylvania
September 7, 2007 – December 16, 2007
If for any reason you won't be in Philadelphia between now and mid-December, do yourself a favor and buy a copy of Eileen Neff's catalogue of the show, Eileen Neff: Between Us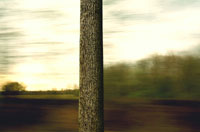 Eileen Neff,
Anecdote of the Tree
, 1999-2000, C-print mounted on aluminum, 44 x 64 inches, edition of 5. Courtesy of the artist and Locks Gallery, Philadelphia
Eileen's work is solid, yet poetic and at the very end of the day, rich and soul satisfying. Focusing on the past ten years, this exhibit traces a fascinating and critical shift from the camera to the computer. All of her work emerges from a textured, rich background in painting and sculpture.
What might seem like a reduction to the simplicity of basics is merely an entrée into what I have often found to be mysterious interiors. . . a journey through related thoughts and feelings. But that's me. Treat yourself and find out what you see.
This exhibition is organized by Ingrid Schaffner, Senior Curator, and Patrick Murphy, Director, Royal Hibernian Academy, Dublin, Ireland.

-- Lynne Honickman