Storm King Art Center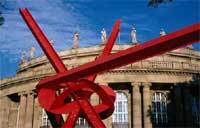 Photo by Richard Bellamy.
© George Bellamy
The Honickman Foundation is supporting
Storm King Art Center's
first exhibition of color and black-and-white photographs of the sculptures of Mark di Suvero by legendary art dealer Richard Bellamy. Bellamy's involvement with photography began when he started taking photographs of the works of his close friend Mark di Suvero. From 1975 until his death, Bellamy took hundreds of photographs of di Suvero sculptures. Over fifty photographs selected for the exhibition will be installed to reflect Bellamy's vision. The photographs on view testify to Bellamy's passion for sculpture, while also revealing new ways of viewing di Suvero's work.
Richard Bellamy and Mark di Suvero is being organized by David R. Collens, director and curator of the Storm King Art Center. Storm King will publish a catalogue in conjunction with the exhibition which runs from Mid-May through November 13, 2005 and April 1 through November 15, 2006.