In Remembrance: Myrna Brind, 1945-2004
"On Life" by Myrna Brind

Presented at the Thomas Jefferson University Hospital Anniversary Dinner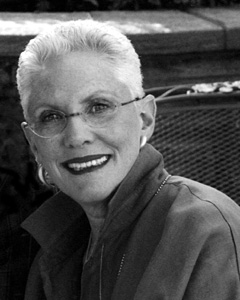 November 20, 2003
I wish to extend my heartfelt appreciation and gratitude to all for joining this celebration of life. My recent journey from illness to health prompted many insights. These have been very powerful and essential to my healing process. I would like to share a few of them with you tonight.
First: The soul heals and science cures. I believe that the light and energy of the soul helps in the cure, not just in the healing, and both are essential for physical, mental, emotional and spiritual stability .
Second: The act of service pulls us out of ourselves, generates the power of love and charity, and most of all, makes us feel good about ourselves.
Third: My friends and family are the support of my life. Your energy, prayers, support and love have empowered my inner capacity to heal. Your letters sustained and reassured my path. I received over 500 letters and e-mails.
Fourth: We must believe passionately - allow our dreams to soar. To discover and honor the difference in our lives and others can truly make a difference.
To reap the harvest of the above – in quiet moments and soul awareness, the following was essential and I quote:
It is rewarding to find someone whom you like,
But it is essential to like yourself.

It is quickening to recognize that someone
Is a good and decent human being,
But it is indispensable
To view yourself as acceptable.

It is a delight to discover
People are worthy of respect
And admiration and love,
But it is vital to believe yourself deserving of these things.

For you cannot live in someone else,
You cannot find yourself in someone else,
You cannot be given a life by someone else.

Of all the people you will know in a lifetime,
You are the only one you will never lose.

To the question of your life,
You are the only answer.

To the problems of our life,
You are the only solution.

— Author Unknown