Jefferson – Project HOME Health Program
Project HOME's Health Services Program, a partnership with doctors, nurses and students at Jefferson Family Medicine has taken a giant step forward in the journey to prevent and end homelessness. Located at the 28,000 square-foot Stephen Klein Wellness Center (SKWC), the program offers a patient-centered integrated approach, where a team of health and medical professionals seek to develop ongoing healing relationships with patients who, due to complexities of life and lack of local, affordable health care options, struggle with managing their chronic illnesses.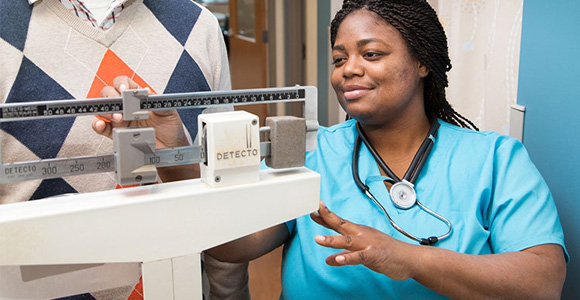 The SKWC provides a sorely needed health home for homeless men, women and children, and low income residents in an area where half of the people live in poverty and almost a third in extreme poverty. Services are offered regardless of insurance or a person's ability to pay for the services. In cases where an individual lacks health insurance, a discounted sliding fee program is offered.
Project HOME's Health Services Program and its partners Thomas Jefferson University and Hospitals and Jefferson Medical College Department of Family and Community Medicine will offer primary medical care, behavioral health, dental care, a pharmacy, wellness classes and a Philadelphia Freedom Valley YMCA with babysitting services. The Wellness Center expands the healthcare services that Project HOME and Jefferson Family Medicine have made available to the community in North Philadelphia for almost 20 years.