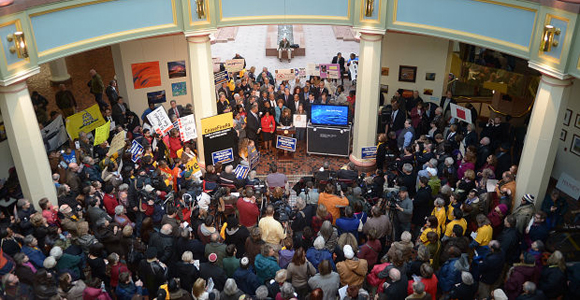 CeaseFire Rally
On January 23rd, 2013, hundreds of Pennsylvanians traveled to the Capitol Building in Harrisburg with a message to our elected officials — We Demand Action Now. Participants in this "Day of Action" ranged from long-time gun violence prevention advocates to first-time visitors to Harrisburg, and included parents, teachers, families and students from across the state.
The group, organized by CeaseFirePA, came together to advocate for gun violence prevention measures in a state where so many common sense reform laws are needed to keep our children and families safe. Specifically, the Day of Action called for measures that CeaseFirePA has advocated for years: comprehensive background checks, mandatory reporting of lost or stolen guns, and a ban on military style assault weapons.
The Day of Action also highlighted the dire need to close the Florida loophole, a legislative oversight that had allowed Pennsylvanians to carry concealed weapons using an out-of-state mail order permit from Florida. In the weeks that followed the event, newly sworn-in Attorney General Kathleen Kane announced that the State of Florida had agreed to put an end to this policy.
The Florida loophole is now closed.
This victory has made our streets safer and proven, once again, that our voices can make a difference. But our work is far from over.
Please stand with us as we call for the state legislature to consider additional common sense reform measures. Sign the petition and Demand Action Now.