JBJ Soul Homes
The JBJ Soul Homes opened in the Francisville neighborhood of Philadelphia. Fueled by a lead gift from Jon Bon Jovi's Soul Foundation, the $16.6 million housing project features a newly constructed, four story mixed-use development with retail space on the first floor, and residences and offices on the remaining three floors.
The complex includes 55 subsidized, fully furnished apartments for individuals and families who had been homeless, including units dedicated for young adults. Accessible units for the physically, hearing and visually impaired are also available.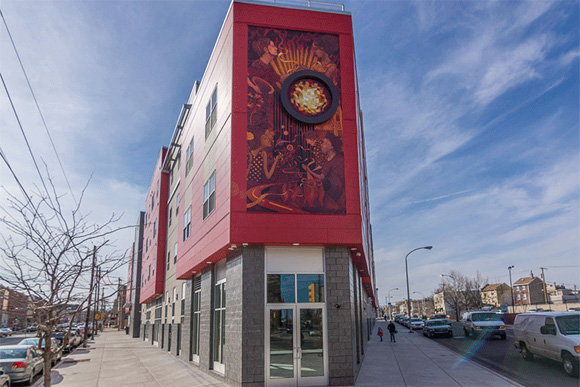 All residents are offered on-site service coordination and personal recovery services, and they are encouraged to participate in recovery oriented activities that will help lead them to personal growth, well-being and self-sufficiency.
Before the official ribbon cutting ceremony, Bon Jovi said in an interview, "This is not a handout, it's just a hand up. This opportunity [for the residents] is special and it's not easy to come by."
This latest project represents more than just one more residence; it is part of an ambitious, strategic multi-year plan that is being developed in partnership with many other groups. The goal is to create a range of housing and support services that will dramatically reduce the number of chronically homeless persons in Philadelphia. The belief is that with the realization of this plan, chronic street homelessness in our city will become the rarity, not the norm.