Kensington Project · Maguire Residence
Project HOME's 17th Affordable Residence
The complex includes 55 subsidized, fully furnished apartments for individuals and families who had been homeless, including units dedicated for young adults. Accessible units for the physically, hearing and visually impaired are also available.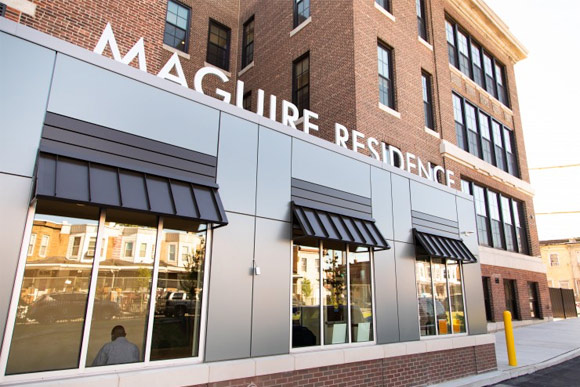 Project HOME is on the front lines addressing one of the most devastating crises in the nation—homelessness. Today, Project HOME is redoubling its efforts by creating recovery housing coupled with services for people impacted by the opioid epidemic.
The creation of the Maguire Residence, in the heart of Kensington, is transforming an entire city block with 42 living units and green space. The permanent supportive housing for people who have experienced homelessness and are committed to recovery will focus on employment and educational goals, while establishing a lifestyle that promotes wellness, recovery, and community.