Hub of Hope

Ribbon Cutting Ceremony at Hub of Hope Opening on January 30, 2018
Project HOME, the City of Philadelphia and SEPTA held a ribbon-cutting ceremony on January 30, 2018 to officially open the new Hub of Hope in the Center City sub-concourse of Suburban Station. The 11,000-square-foot facility is operated by Project HOME and provides a gateway to vital services and care for Philadelphia's homeless.
The Hub of Hope is a first-of- its-kind engagement center for the homeless created through a partnership with a social services agency, transportation authority, and municipality.
"SEPTA is not only in the transportation industry, we are also in the community service business and we are proud of our role as a partner in working to find solutions to the Philadelphia region's needs," said SEPTA Chairman Pasquale T. Deon, Sr. "Beyond the human toll of homelessness and poverty, homelessness presents unique challenges for SEPTA and our customers, especially in Center City. That is why SEPTA and our Board are proud to support the Hub of Hope to help those struggling with homelessness."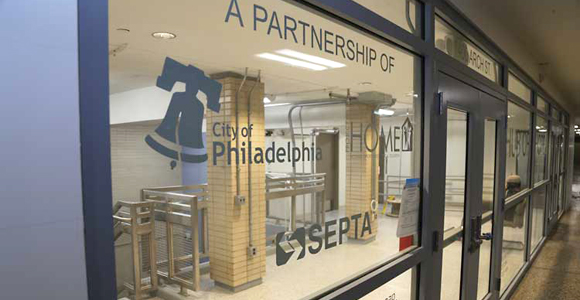 Philadelphia Mayor James Kenney added, "We know that city government can't solve homelessness alone. This kind of partnership shows what we can do when we all work together. I hope other businesses will take SEPTA's lead. They invested their money and leadership in the development of this site, stepping up to be part of a creative solution."
The Hub of Hope initiative began in 2012, operating as a winter initiative from an old, cramped, empty hair salon in a corner of the Suburban Station concourse. The new permanent facility, located in an underground concourse space that was last used 25 years ago by the Philadelphia Police Department Transit Division, will be open year-round, Monday-Friday from 7 a.m. to 7 p.m. and on weekends.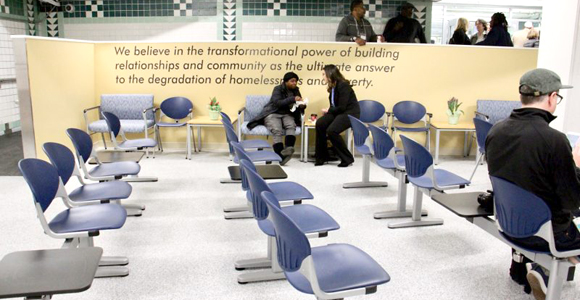 Reception Area of the new Hub of Hope facility
As of 2017, 1,462 individuals visited the Hub of Hope and thousands of those experiencing chronic homelessness were placed into shelter, treatment and other housing options.
Sister Mary Scullion, Project HOME co-founder and Executive Director said, "The new Hub of Hope will offer a safe place where people can enjoy a warm cup of coffee, take a shower and wash laundry, and speak to peers or case managers to begin the process of finding a permanent home. It creates even greater opportunities to connect individuals experiencing homelessness to treatment, medical care and ultimately stable, supportive housing."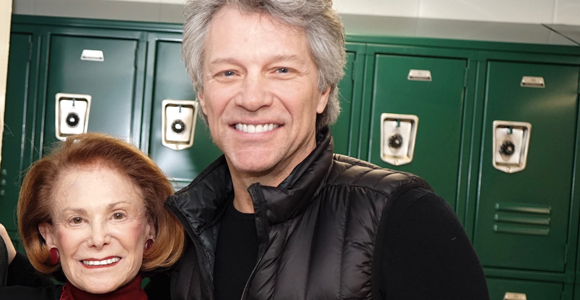 Lynne Honickman and Jon Bon Jovi at Hub of Hope Opening
"We realized it was a huge undertaking to have the facility up and running by the winter," said SEPTA General Manager Jeffrey D. Knueppel. "But I knew the team of in-house employees and contractors would meet the challenge. And they did, working around the clock. I am proud of their commitment to meet the demands this job brought."
While the new Hub of Hope is the result of a partnership with Project HOME, the City of Philadelphia and SEPTA, start-up funding for the facility was made possible through the support of many individuals, organizations and businesses. Working together, we can make a difference in the lives of those experiencing chronic homelessness.