Gloria Casarez Grand Opening
On May 14, 2019, Project HOME celebrated the grand opening of the Gloria Casarez Residence. This new LGBTQ‐friendly residence at 1315 North 8th Street is named after Gloria Casarez, a Philly native who fought for LGBTQ rights across the nation.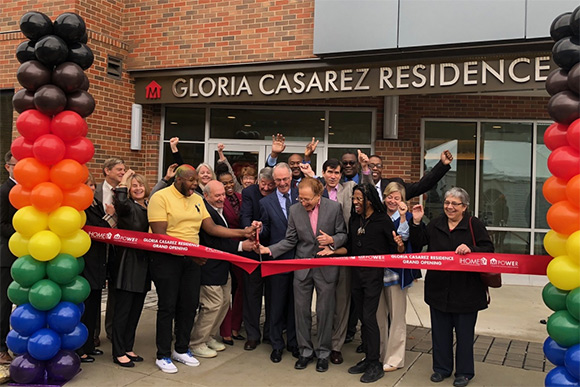 The 36,000‐square‐foot property provides affordable housing for young adults (ages 18–23 at entry) who are homeless, have experienced homelessness, or are at risk for homelessness, including those aging out of the foster care system. It is the first permanent supportive housing of its kind in the Commonwealth of Pennsylvania, and among the first in the nation.
With the addition of this housing, Project HOME now has 70 dedicated apartments for young adults, all with access to The Young Adult Program, which provides a variety of support and services to the residents.
As Young Adult Program Manager Kate Gormley explains, "Our young residents are very vulnerable. There might be some mental illness, or some degree of recovery—there's really a lot to figure out."
Most importantly, the program seems to be working to help the residents deal with these issues; 80 percent of participants have either full—or part‐time employment and are in school. "What really ensures someone's ability to maintain their housing moving forward are their educational accomplishments and their ability to maintain and improve income," explains Gormley.
The Young Adult Program is a strategic component of MPOWER, a Project HOME community investment partnership dedicated to the prevention of chronic street homelessness. Nationally, young adult homelessness is on the rise, and an estimated 40 percent identify as LGBTQ.
The LGBTQ support at Gloria Casarez means a lot to new resident James. "I appreciate it because it helps us explore and educate others," he says.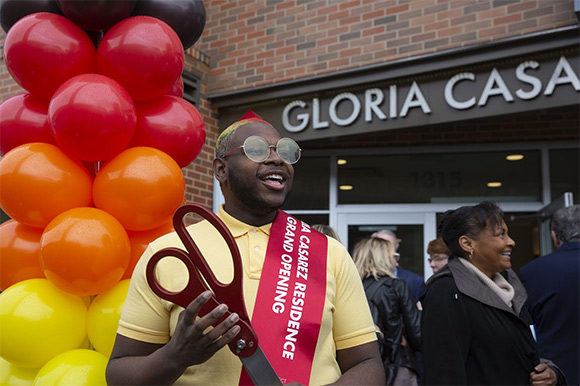 James, 20, identifies as bisexual. He traveled a long and difficult road to get to Gloria Casarez Residence, but he knew that if he could just get out of his home and find the right atmosphere, things would change for him. He is now working on getting his GED and is planning to support the LGBTQ youth of the future. "I want to open up my own behavioral health centers more directed towards LGBTQ families and individual children."
James' focus on helping others is not unique among the young adults that Gormley has worked with over the years. It's that spirit of resilience that brought these young adults to Project HOME's Gloria Casarez Residence. Gormley says, "When you add that to education, employment, and life skills, which the Young Adult Program offers, then that's what allows this group to not just live independently, but really thrive."