Kate's Place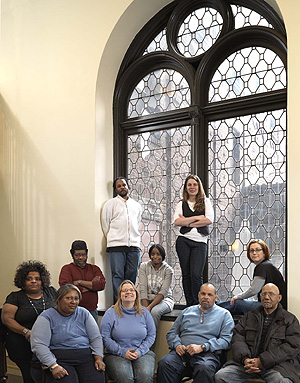 Kate's Place is a fully renovated apartment building in the upscale Center City Rittenhouse Square Neighborhood. The building offers 144 affordable single room housing units with rents ranging from $520 to $650 a month including all utilities. Income restrictions are as follows: 30 subsidized units for people with an income of $15,000 and below; 100 units for people with income in the range of $15,001 - $32,700; 14 market rate units for people with an income of at least $32,701 with no upper income limit. A case manager is on site to provide housing, educational, employment, health and wellness resources as well as on site classes and groups.
Kate's Place is located at 1929 Sansom Street, Philadelphia, PA 19103. The 60,000 sq. ft. property is comprised of 9 residential floors, 4 amenity floors, and office space on the lobby and mezzanine levels. Kate's is home to 144 single room apartments with central heating/air conditioning and all utilities included in the rent. Each apartment consists of a fully furnished bedroom and private bathroom with a microwave and mini-refrigerator. There are fully equipped large shared kitchens on each residential floor with locked cabinets for every resident. In addition, there are laundry facilities and additional storage space on site. The community level boasts a large lounge area with couches, chairs, and a large screen television with cable access. Kate's Place also offers a library and computer lab with internet access.
For more information about Kate's Place, please contact Kate's Place Staff at 215-568-0304.