Project HOME · 2415 North Broad Street
Funded by a transformational gift from Leigh and John Middleton, 2415 North Broad Street is the fifth project of the Middleton Partnership in support of Project HOME's new development consisting of 88 units of affordable housing that will include retail space on the ground level.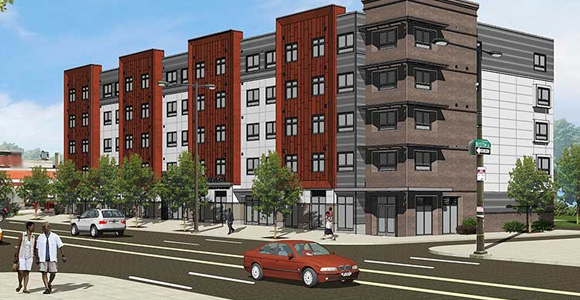 The 2415 North Broad Street project supports the City of Philadelphia's goals of development on the North Broad Street Corridor in a prime development area identified as an opportunity zone.
The area currently has many underutilized buildings and lots with a proximity to public transportation, Temple University's main campus and health system campus.
The addition of housing and mixed-use buildings will build upon the previous investment in retail and help to reestablish North Broad Street as a mixed-use urban area, to promote Philadelphia's image as a "walker's city."
The financial leverage and collaborative impact of the Middleton Partnership allows Project HOME to greatly expand its housing and services, including building six new residential programs with a total of 500 additional housing units – doubling overall housing capacity – and a new wellness center offering integrated health care services including primary, behavioral health, and dental care, together with wellness programs.