Project HOME · Jefferson Health Program
Project HOME's Health Services Program is based at the Stephen Klein Wellness Center (SKWC) in North Central Philadelphia. In partnership with Jefferson Health System's Family Medicine and a community advisory board, the Wellness Center is designed to provide services that extend beyond medical care and focus on a more holistic approach that concentrates on wellness and prevention.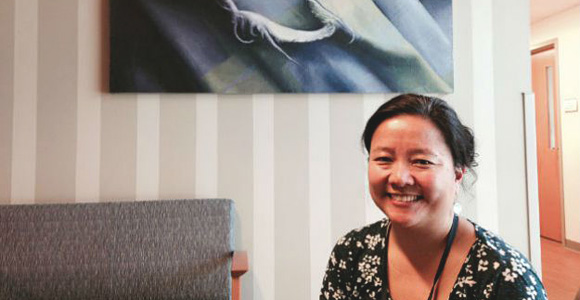 Health Care Services director Monica McCurdy in the hospitality room of the new Stephen Klein Wellness Center.
The model of care has, at its core, a patient-centered integrated approach, where a team of health and medical professionals seek to develop on-going healing relationships with those patients who, due to complexities of life and lack of local, affordable health care options, struggle with managing their chronic illness. As a Federally Qualified Health Center (FQHC), the SKWC is able to provide services regardless of insurance or a person's ability to pay.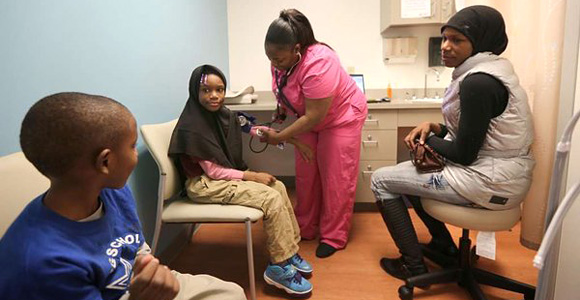 Medical assistant Tyesha Hightower takes the blood pressure of a young patient with her mother and brother in attendance.
The SKWC offers primary medical care, behavioral health and health education services, nurse care management, peer-led outreach, on-site legal counseling, a pharmacy, assistance with applying for health insurance benefits, and a fitness facility complete with childcare.
The Center is a critical next step to ending homelessness and helping Philadelphians heal. Providing homeless and low-income residents with quality health care, information and opportunities will empower them to adopt healthier lifestyles, thus creating healthier communities in the future.