Fran Egan Civic Award
The Fran Egan Civic Award commemorates the life of Fran Egan, a beloved member of the Project H.O.M.E. community, who died on Christmas Eve, 2005.
What we remember most about Fran is the beautiful person she was. Fran was a trusted friend and a wise advisor. She was smart, tenacious, and gracious — a person of integrity and dependability. Fran was willing to fight for something she believed in, and her courage in the face of adversity is legendary. This courage born of faith was present throughout her long battle with cancer.
The Fran Egan Award, presented by Project H.O.M.E. in conjunction with Fran's family, is one way to continue her legacy of working to make our city and our world more just and hospitable for all persons.
The annual FRAN EGAN CIVIC AWARD is intended for an adult or teen who plans to use his or her education to improve civic life in Philadelphia. The award also includes a financial grant.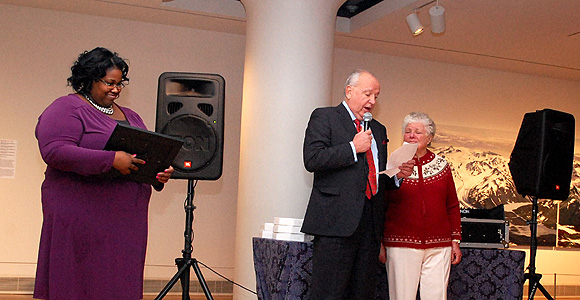 Tomika Brown accepts her award from John Egan and Patricia Peteraf, Fran Egan's mother.
2010 Winner: Tomika Brown
The winner of this year's Fran Egan Civic Award is Tomika Brown. Here is the description of Tomika that was read when she was presented with the Award:
This past year, we celebrated an amazing accomplishment: Twelve of our high school students in our North Philadelphia community went to college, the highest number in recent memory. That was largely due to Tomika's leadership. In her position as the College Access Coordinator at the Honickman Learning Center & Comcast Technology Labs, Tomika has been a mentor, a role model, a disciplinarian, a chaperone, even a fashion consultant – in short, she does whatever it takes to empower our young people to take positive steps toward their future. Her work not only affects her students, but their families as well, and even the broader community. Younger family members witness the results of hard work and the value of committing to a good education. The entire community benefits from the contributions that hard-working, better-educated youth bring home. Her efforts directly address a root cause of poverty and homelessness: the lack of education.
Tomika is currently pursuing her Ph.D., in Urban Education at Temple University. Tomika will use her education to further her passion for empowering urban youth to achieve education goals, and to help in reforming urban high schools.
Tomika has a spirit of excellence and professionalism but at the same time she is down-to-earth and very personable. Her compassion and her sense of community naturally express the mission of Project H.O.M.E.
We are honored to present this Award to Tomika Brown.
Congratulations to Tomika! And thanks to the Egan family for making this Award possible.
For more information on the award, including nomination guidelines and criteria, contact Will O'Brien, Special Projects Coordinator, at 215-232-727, ext. 3047.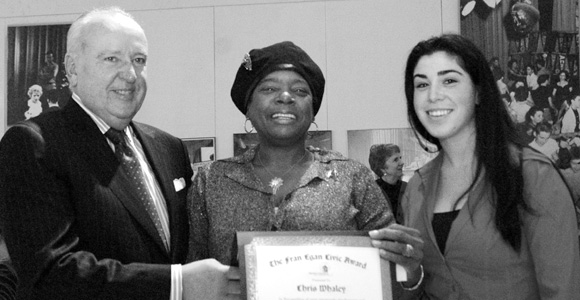 Other Past Winners:
Peak Johnson, Owen Riordan (2006)
Frank Bradley, Jennine Miller (2007)
Chris Whaley, Reggie Cintron, George Smith, Sarah Pulver (2008)
Tanisha Clanton and Heather Hillas (2009)