Sister Mary Scullion and Joan McConnon To Receive 2011 Laetare Medal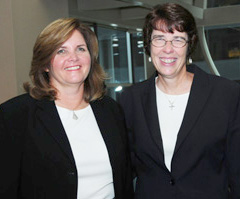 Sister Mary Scullion, R.S.M., and Joan McConnon, co-founders of Project H.O.M.E. jointly received the University of Notre Dame's 2011 Laetare Medal, the oldest and most prestigious honor given to American Catholics, at Notre Dame's 166th University Commencement ceremony on Sunday, May 22.
"In their work for the homeless of Philadelphia, Sister Scullion and Joan McConnon have splendidly answered the Gospel summons to brotherly love," said Notre Dame's president, Rev. John I. Jenkins, C.S.C. "Serving the unsheltered Lord on the streets of their hometown, they have provided an example for others to serve likewise in cities worldwide."
Sister Scullion and McConnon, both Philadelphia natives, founded Project H.O.M.E. (an acronym for Housing, Opportunities for Employment, Medical Care, and Education) in 1989, first providing emergency shelter for some 50 homeless men, then forming a community and establishing more permanent supportive residences for chronically homeless men and women who sought food, clothing, medical care, employment and a sense of dignity.
Today, there are 480 units of housing and two businesses which provide employment to formerly homeless people. Recognized as a national model, Project H.O.M.E. also engages in community development, including renovation of inner city vacant lots, economic development, home-ownership initiatives for working poor families, and education and employment programs for youth and adults. Of the homeless people participating in its programs, 95 percent have not returned to the streets, and it is widely credited for having reduced Philadelphia's homeless population by half.
Established at Notre Dame in 1883, the Laetare Medal was conceived as an American counterpart of the Golden Rose, a papal honor which antedates the 11th century. The medal has been awarded annually at Notre Dame to a Catholic "whose genius has ennobled the arts and sciences, illustrated the ideals of the Church and enriched the heritage of humanity."