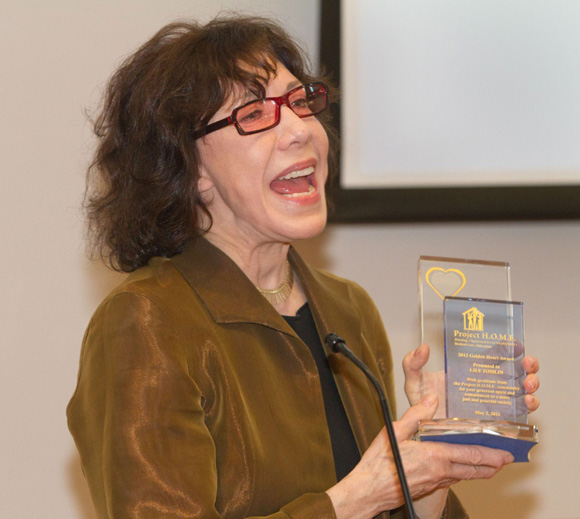 Lily Tomlin Receives 2012 Golden Heart Award
Text Reprinted from the HOME Word May 2012 Blog
Edith Ann and her big chair. Ernestine the rude telephone receptionist. Trudy the bag lady. Ms. Frizzle from Magic School Bus series.
These are just a few of the classic characters actor and comedian Lily Tomlin has crafted over the years. But they hardly outshine her role as advocate for and supporter of society's most vulnerable, making her a worthy recipient of this year's Golden Heart Award at a May 2 private fundraising event.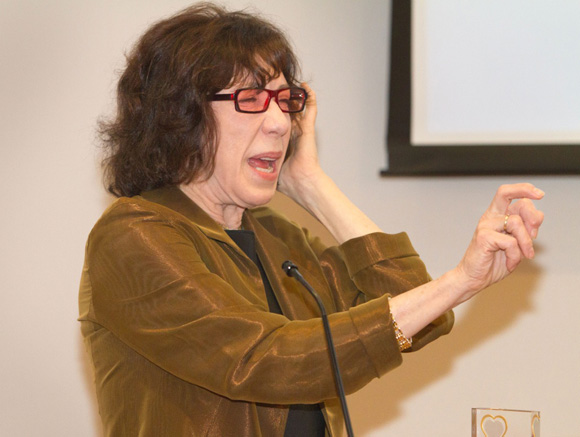 The Golden Heart Award was established in 2009 to celebrate and pay tribute to those individuals who, by the force of their character, the power of their values, and the generosity of their heart, honor the mission of Project HOME These individuals strive to make an impact in breaking the cycle of homelessness and poverty – empowering adults, children and families to attain their fullest potential.
Past honorees are Jon Bon Jovi, 2009 and General Colin L. Powell (Ret.), 2011. Tomlin, a long-time friend of Project HOME, provided her first service to the Project HOME community when she performed her one-woman show, "The Search for Intelligent Life in the Universe", for residents of our women's shelter.
This year's event raised $200,000 to help formerly homeless men and women – including veterans – re-enter the workforce and find meaningful permanent employment opportunities. Specifically, it will expand Project HOME's highly successful Exelon Veterans Training and Internship Program that places formerly homeless veterans in internships and mentors them to re-enter the workforce. We have seen how employment coupled with housing can change people's lives and their futures. This substantial support truly makes a huge difference in our work, and most importantly changes the lives of the people and families we serve.
Lily poses with Stanford Broadwater, Jr. one of the luncheon speakers and a recent graduate of the Exelon internship program.
Speaking at the luncheon, a recent graduate of the internship program, Stanford Broadwater, Jr – who formerly served our country as a United States Marine Corps Sergeant – credited the program with not only giving him important job skills, but also helping him reconnect with his family, friends and take on personal obligations that he had previously shirked. Broadwater and six other program participants recently gathered to celebrate their graduation – and their newly-secured employment. PECO, an Exelon subsidiary, was so impressed with the 100 percent success rate they presented a check to Project HOME to ensure continued funding for the program.
Thanks to Lily Tomlin, the luncheon co-hosts (Christine Connelly, Jeffrey Gordon, Daniel Hilferty, Lynne Honickman, James and Sharon O'Brien, Lynn Salvo and Susan Sherman), the program sponsors (Exelon/PECO and Independence Blue Cross), and attendees of the 2012 Golden Heart Luncheon.