March For Our Lives and CeaseFirePA Lobby for ERPO
On June 12, 2019, CeaseFirePA brought student activists from March For Our Lives to the Harrisburg Capitol to lobby for Extreme Risk Protection Order legislation and other common sense gun safety bills. The students hailed from across the Commonwealth, including Cumberland, Philadelphia, Berks, Lackawanna, Montgomery, and Allegheny counties.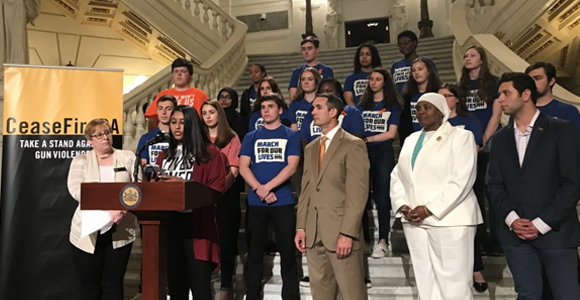 March For Our Lives students, as well as several Pennsylvanian trauma surgeons, held legislative visits with more than 25 lawmakers from both sides of the aisle, including Governor Tom Wolf and Representative Aaron Bernstine. These meetings were very productive as the House and Senate versions of ERPO continued to gain support.
Later in the day, students joined Auditor Eugene DePasquale and Representatives Movita Johnson-Harrell, Carolyn Comitta, and Edward Gainey for a press conference in the rotunda on common sense gun legislation.
"To the lawmakers who support common-sense gun legislation, thank you. To the lawmakers who do the bidding of the NRA, we will be back again with more students, we will be watching, and your days are numbered. We're coming for your jobs," said Philadelphia March For Our Lives co-founder Ethan Block.
The Honickman Foundation is proud to support the work of CeaseFirePA as we continue to push for common sense gun safety reform like Extreme Risk Protection Orders.